Guess what I did over the weekend. I finished watching season 2 of The O.C. OMG! So much drama! Now I can't wait to start on season 2 of One Tree Hill, Lost and Desperate Housewives. I blame Captain Oats (you know who you are) for getting me hooked on all the dramas and them cute looking actors.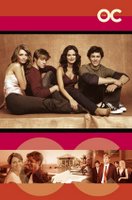 I bought season 4 of Alias but still haven't gotten around to watching it yet. I tell ya, Sydney Bristow can kick ass! Oooohh oooo…Nothing beats Buffy the Vampire Slayer though. Joss Whedon, the creator of Buffy and Angel is a genius. Every episode of Buffy is just so symbolic, plus the vampires in that show is goojas too! Ermm…I meant Angel kay. Well, Spike's not bad too.
So anyway, I watched episodes 1-3 of Charmed season 8 last week. The new season of Charmed is showing on Astro's Starworld every Tuesday if I'm not mistaken. I plan to watch Lost 2 tomorrow after eating rendang and lemang. Hehehe... I can't believe I am so hooked on all these stories. It's crazy I tell you. I would wake up very early on a weekend and start my dvd marathon. Thank god the boyfriend would text me and asked when we're going out because if he did not do that, I would still be in my jammies and bugs bunny slippers eating a whole pack of Lays Sour Cream N Onion potato chips or Doritos Nacho Cheese Tortilla Chips with a huge glass of iced Vanilla Coke!

Maybe it's a way for me to escape the reality of life. I mean the actors/actresses in those series always seemed to land themselves in hot soup everytime. Being a drama queen/king is an everyday affair for them. So in a way, by watching all this shows, it's like my life is not as complicated or dramatic as theirs. I don't have to deal with an alcoholic mother or an evil SOB father like how Seth and Nathan have to.

Sex and the City is another favourite show of mine. I can relate to all their problems, well most of it anyway. Definitely NOT the one where Samantha found a white pubic hair and dyed them pink! I hope I would never get into that kinda of predicament. Too bad the season's over.
So what's your favourite show?